You know there is a better way ...


Tighter Margins are forcing you to do more with less.

You seem to bid more work each year just to keep pace.

Owners are asking you for more detailed information and want it now!

That same information is needed by both Project Mgt. and Accounting.

Work force is more mobile yet needs the information that is back at the office.

Your current software packages don't talk to each other.

Self developed Excel Spreadsheets can only take you so far.


DOES A SOLUTION EXIST?


Why don't you hit your target profits?


Change Orders being missed
Scope Creep adding to costs

Estimates rushed out the door

Need Better Communication
Need Better Coordination


SOUND FAMILIAR?

---
Take a look at our Project Management and Estimating Solutions today ...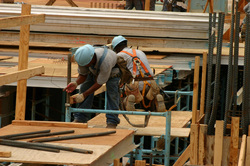 ---